Instructions on Booting into Safe Mode:
Safe Mode is a troubleshooting mode, designed to start Windows as minimally as possible. This also means that all of the programs that are set to run when Windows starts will not be run. This is invaluable when attempting to clean off unwanted files that may otherwise be locked in place.
BOOTING INTO SAFE MODE:
1) Save any work you have on the computer, and prepare to shut down. You will need to print out these instructions or write them down, since your computer will be turned off. If you plan on running AIMFix or some other tool, if possible, DOWNLOAD IT FIRST!
2) Once your computer is off, hit the power switch again to turn it back on. Now, the next bit will vary slightly depending on what computer you have, whether it is a Dell, Compaq, Gateway, etc.
The computer will probably display a logo or a bunch of text about what it's doing when you turn it on. This is the "BIOS" going through routine checks as it starts the computer. This is separate from Windows, and happens before Windows is even loaded.
3) Now, before you see the Windows logo (i.e. the "Windows XP Professional" screen) you'll need to press the F8 key at the top of your keyboard. A good way to do this is to just start pressing F8 repeatedly once you turn the computer on until you reach the Windows boot options screen, which should look like this if you are on 98/ME: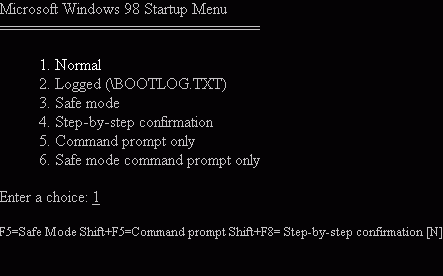 or like this if you are on XP or 2000: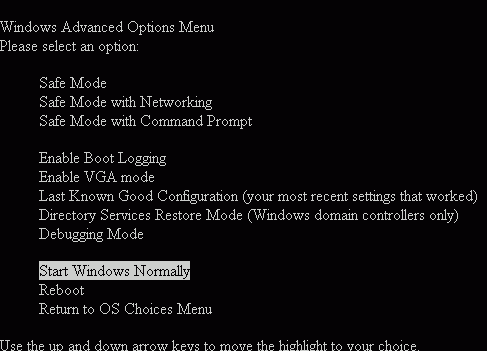 If you did not get to this screen, turn your computer off and start pressing F8 earlier, because you missed it.
4) Now, this is the fairly obvious part: use the arrow keys to highlight "Safe mode" or "Safe Mode with Networking" (If you are on XP/2000 (the networking means you will be able to get on the internet if you need help) and press ENTER to select it.
5) Once Windows boots, it will probably look odd because you havent loaded your video support so it will have funny colors and so forth. Once you are finished with Safe Mode, simply restart the computer and it will automatically reboot into Normal Mode.